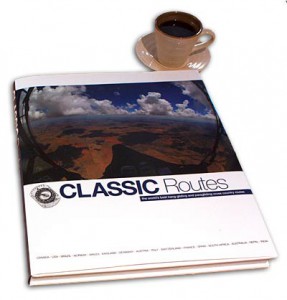 Classic Routes is a collection of 20 of the finest paragliding and hang gliding cross country routes in the world, told in stories and photos by some of the greatest names in the sports.
Paragliding and hang gliding are exciting and emotive adventure sports. Combining the fast reflex excitement of rally driving, the cerebral knowledge of chess with the inherent luck of poker, these sports take their participants on an absorbing adventure across the skies of the world using sun and wind alone as fuel.
Hunting out invisible currents of air to ride to great heights, paraglider and hang glider pilots hop like knights across a chessboard in an intoxicating adventure game of the purest form. It's exciting, exacting and enthralling – man versus nature in a raw and tenacious battle of nerve and intuition.
Like great climbs, the classic paragliding and hang gliding routes are legendary adventures. This book is a collection of them, told through the words and pictures of some of the world's most experienced pilots. Fly with them as they guide us through some of the finest landscapes in the world. Classic Routes blends a mixture of flatland and mountains, desert and jungle, urban and remote to deliver what we hope you will find to be a 'book of flying dreams'.
Hardback
192 Pages
Coffee Table Book
ISBN-10: 0957072708
ISBN-13: 978-0957072701
Product Dimensions: 30 x 3 x 25 cm